The necessity of keeping medical facilities clean and using appropriate cleaning and disinfection practices cannot be overstated. High-traffic areas are the ideal spots for the spread of germs and other compounds because of the constant influx of patients, workers, and visitors.
Cleaning and disinfecting medical facilities are important to protect patients, visitors, and staff from hospital-acquired infections.
Therefore, a professional cleaning company like Extra Hands Services should be contacted. We have been offering medical facility cleaning to outpatient clinics, eye care, and surgical centers for over 15 years in Kansas and Missouri. Our team of trained professionals complies with the regulatory standards, ensuring complete sanitation and cleanliness.
So, What Is The Importance Of Cleaning And Disinfecting Medical Facilities?
Imagine a person ending up sick due to the very place that was supposed to provide treatment.
Medical centers have patients who may be bringing in various pathogens. These germs must be eliminated to ensure a healthy and safe environment. Cleaning and disinfection are of the utmost importance in high-traffic areas, including waiting rooms, hallways, staircases, lifts, and reception areas.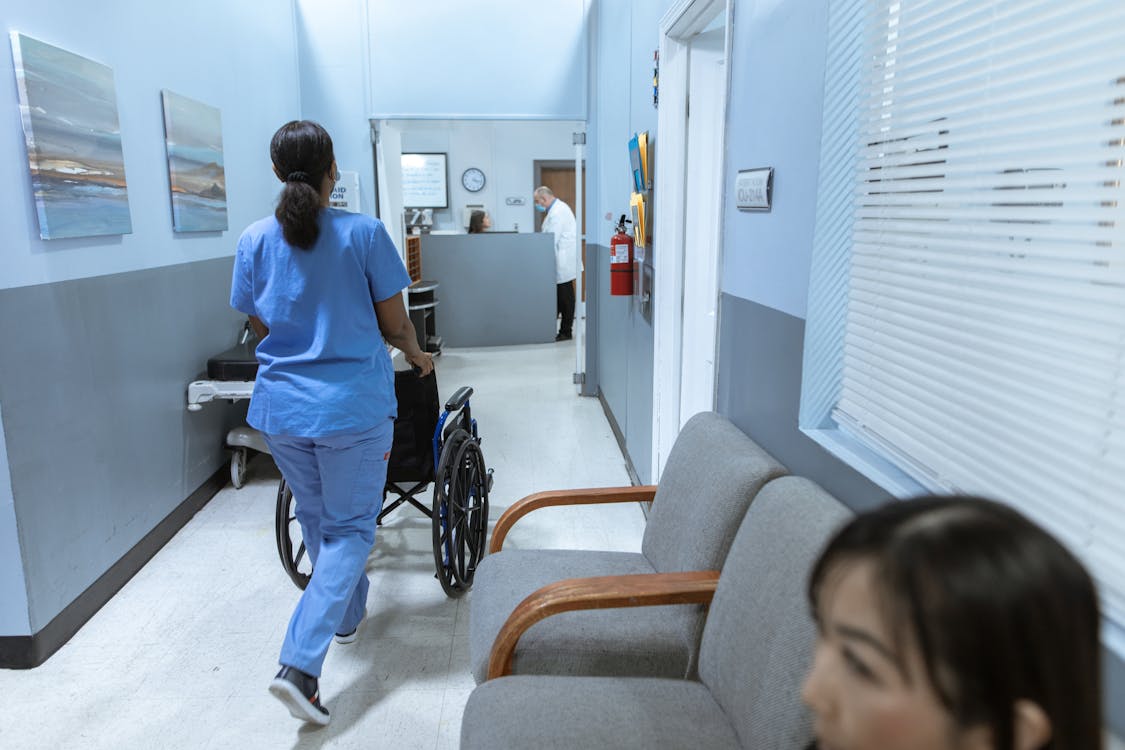 Healthcare institutions can help prevent the spread of disease by keeping their environments clean and using effective cleaning and disinfection procedures.
What Are The Cleaning And Disinfecting Strategies For High-Traffic Medical Facility Areas?
Keeping hospitals and other healthcare facilities clean and sanitary is essential for the well-being of patients and employees. Here are some strategies to follow;
1. Education And Awareness
Your healthcare facility staff should be trained and well aware of the importance of cleanliness. Ensure the team receives ongoing education and training in correct cleaning techniques, product usage, and infection prevention protocols.
2. Disinfection of High-Touch Surfaces
High-touch surfaces such as doors, rails, handles, chairs, reception desks, etc., have the highest chance of containing infection-causing microorganisms. To eliminate these harmful pathogens, disinfect and clean these areas with EPA-approved disinfectants, HEPA vacuums, and other green seal-certified cleaning products such as those used by Extra Hands Services.
3. Follow Cleaning Standards Regularly
To ensure a healthy and safe environment for patients and staff, regularly cleaning and disinfecting medical facility high-traffic areas according to the protocols is highly important. This entails regularly removing dust, debris, and bacteria from surfaces by dusting, vacuuming, and mopping.
4. Consult A Professional Cleaning Company
Professional medical cleaning service providers are knowledgeable of regulatory standards. They are well-versed in the right use of disinfecting chemicals and techniques, providing complete sanitation.
Professional medical facility cleaning maintains the highest possible cleanliness standards, which not only keeps the patients and staff healthy but also boosts the medical center's overall reputation.
24/7 Cleaning And Disinfecting Medical Facilities' High-Traffic Areas With Extra Hands Services
In the busy areas of healthcare institutions, cleanliness and disinfection procedures are crucial for preventing the transmission of illnesses.
This can be achieved by consulting experienced Extra Hands Services. Our professional team provides top-quality medical facility cleaning in Kansas City. We have been offering janitorial, floor, carpet, and upholstery cleaning services for medical centers as well as manufacturing and distribution centers since 2008.
So, call us at 816-994-8825 or contact us for a professional around-the-clock cleaning service focusing on client satisfaction and health.